was a concept team Tottex pitched to the UK Nike Football team in London.
11 hand-picked Fearless storytellers from across the UK, were given the opportunity to tell their storey on the back of the England shirt.

the 11 here a mix of individuals and organisations that have overcome adversity on their journeys.
a Team Tottex concept and art direction,
produced by our friend's Jack, Josh, Emmet, Charlie and Jennie
who at the time were OUTSIDE agency.
built by Felix at STUDIO I AM
photography- Marc Sethi &
Video & edit- Louis Ellison
the copy is taken from the zine produced for the project written by Felicia Penant & Luis Lopez-Smith
team Tottex on this project
Holly, Megan, Jamz, Hugo, Maddy, Saskia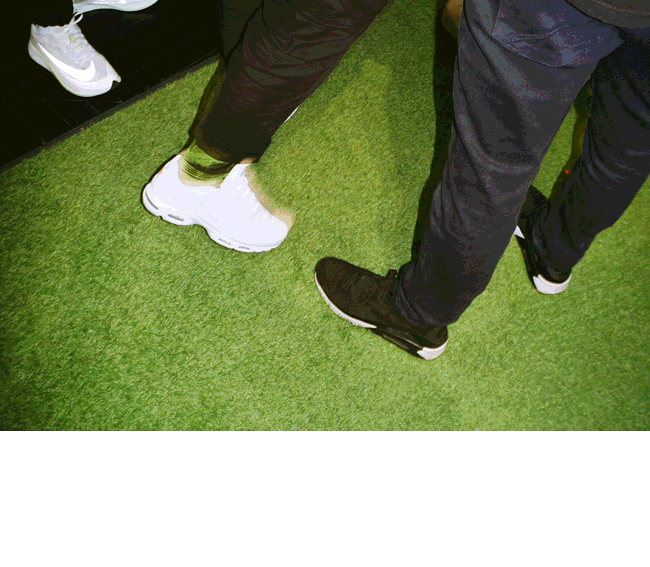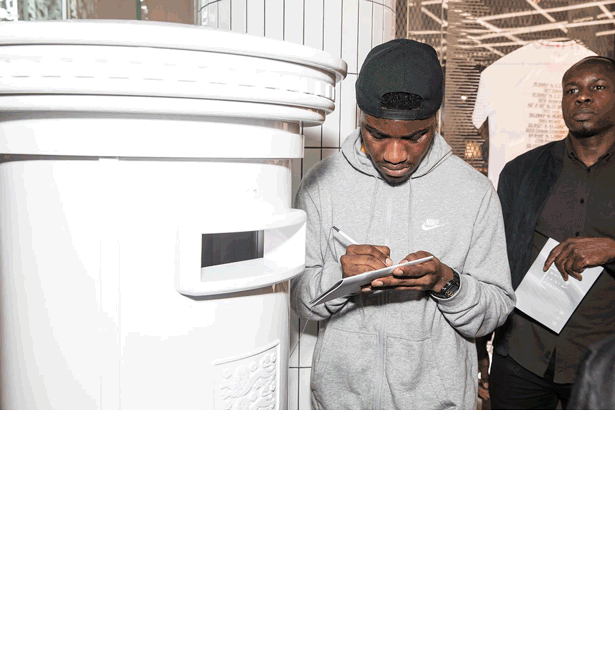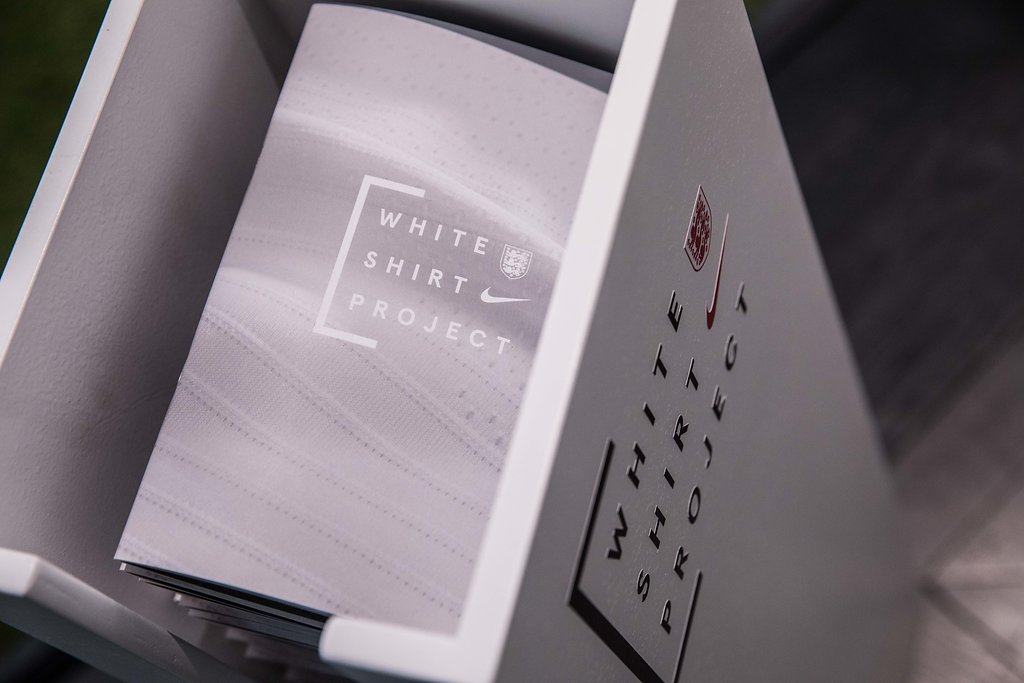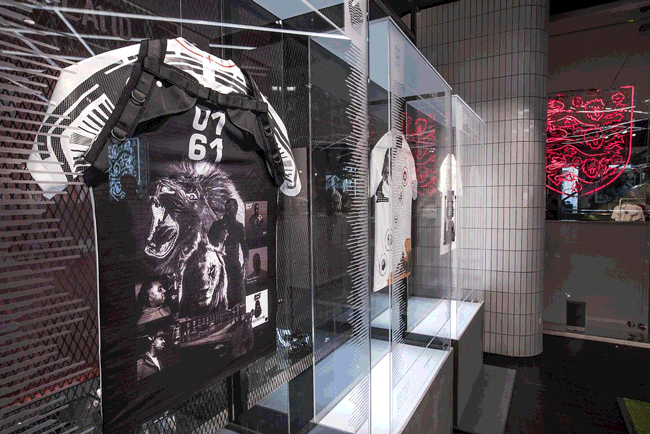 Owen Bainbridge

If you thought football was just for the fully-sighted, Owen Bainbridge's story will urge you to think again. The blind pro footballer didn't let his disability scupper his dream, even though he couldn't really compete with his friends during kickabouts growing up. Finding a team of other partially sighted players in Worcester turned his frustration into elation, and the now 28-year-old made his England Blind debut in 2010. His shirt is arguably the most experimental because it's being printed in Braille- the England badge too for the first time ever- and divided into three sections. 'I've never actually felt it,' Bainbridge said of the usually embroidered national crest so now he'll be able to touch it to form the image in his mind.


Felicia Pennant Founder at Season Zine

The fundamentally male, pale and sometimes stale state of modern football's cultural landscape, along with a love of Chelsea FC, fashion and magazines, drove Central Saint Martins FHT alumna and editor Felicia Pennant to launch SEASON zine in 2016. A cross between a football zine and fashion magazine that currently spans biannual print issues and sticker sets, events and online content; the visionary core team strive to tell stories that showcase and empower women authentically, while unpacking important issues and emphasising diversity.


At the forefront of a proactive female fan movement building creative spaces and inclusive communities, issue 05 drops just before the World Cup filled with enlightening interviews, features and editorials centred on religion and faith. The elements of the SEASON shirt are set out symmetrically in a fictional 3-1-3-4 football formation. Highlights of the incredible trajectory-the first four issue covers, key dates, faces and places are overlaid with a cut-out SEASON logo. There's also a row of embroidered flags under the England flag on the neck nape to express the founder's heritage.


Stanley Osei

As part of a wave of football coaches bucking the 'turning pro is everything' trend, Osei might just be his own best success story. He started out as a real 'roadman' on the street but was able to turn his life around after discovering football coaching and the rush of winning trophies and playing with big teams. The Londoner created his Hidden Jewels coaching program as a result and initially driven by an internal battle to find his own identity, his fearless journey now revolves around trying to get kids off the street and on to a similar path.


Osei's shirt design is a message to guys on the road who are in a place he was in. The bottom left corner features the trappings of being on road the cash the jewlrey the attitude. this section is topped with a photo of a group of lads Stan used to coach. he wanted to include this image (with the lads faces redacted) because one day he turned up to coach them and they didnt turn up. they had all been involved in the death of another 15 year old and are now all jointly serving life sentences for the crme. this was tough for Stan but......it symbolises the end of this part of his life and focus. he described how from this experience he felt compeled to create the logo for his hidden jewels project. a butterfly emerging from a jewel on a football.

the right side overflowing the left with footballs and posititvity leads to the 3 7's which are significent to Stan he also wanted to show some flex and so we put a few pics of him inside the 7's.


London Football Journey

Striving to take youth groups to a meaningful new level, LFJ arranges interactive workshops and football exchanges that push attendees out of their physical comfort zones and encourage them to broaden their horizons without fear. The pièce de résistance are the short films the charity helps the young people involved create about their area, identity and unique journey. The format of choice, new skills are learnt, personal pride and confidence is boosted, and a positive milestone is reached; before these newly minted LFJ ambassadors help the newbies through the same process.


It's been almost a year since the Grenfell fire and the LFJ shirt is the result of an open ideas workshop with a group of young people who attend the Kensington and Aldridge Academy. The Academy's home is at the foot of the Grenfell tower. many students witnessed and are directly affected by the tragedy. it took two months for the Academy to find a new home a postcode away, where they still are in a temporary facility. teaching continues the young people are learning and smiling but they dont forget. the shirt is a tribute to those they lost.



Big Zuu

Before dismissing Big Zuu's decision to drop out of his social care degree to follow music seriously as anything other than fearless, just hear him out. The former youth workers EP Hold Dat showcases his true-to-himself lyrics and energetic rhythmic flow. Determined to make difference to the youth with his music, the massive Liverpool fan spat some of his first bars at West London youth club The Rugby Club (just like his pal AJ Tracey) where the sound engineer would turn off the tracks if he swore.


The court near Big Zuu's home is the focal point of his shirt, inspired by the childhood memory of people throwing their coats over the high wire fences to climb over and get their ball back. There's a trim of razor wire across the top and he's swapped the basketball ring for a speaker stack and a recording studio next to it with a cable running to a mic. The man himself is on the hem on the other end kicking a no look, bottom left corner penalty with four top class goalkeepers going the other way. He's surrounded by his crew with Liverpool FC's motto 'You'll never walk alone' sprayed on the wall above.



Hackney Laces

'We teach life skills and ball skills' is the key line in their rousing manifesto. Frustrated by the lack of opportunities for females to play football, Hackney Laces was set up and its game-changing impact resonates on and off the pitch. Besides bringing players of all ages and abilities together and encouraging them to be themselves, the Laces community inspires over 200 girls in East London with work placements, mentoring and more. Aneequa Prescod-Wright, founder Katee Hui, Keisha Graham-Benjamin and Sohko Fujimoto are the core four currently 'womaning' Hackney Laces around their day jobs. Limehouse Laces and South London Laces are the two sister clubs.


Six young girls put together Hackney Laces' detailed shirt. In the middle is '2011' the year the initiative started, with the zero replaced by an embroidered Hackney Laces logo. You'll also spy a felted black fist, silhouette of a girl doing a bicycle kick, a football with the female cross symbol incorporated, a recent picture of the girls who made this and an image of Hackney Empire. The phrases added are particularly important: 'This is what a footballer looks like' lies on the shirt hem to assert the fact that absolutely anyone can play football. And ten-year-old Kum came up with the neck tag line 'WE AS HUMANS UNITE TOGETHER.'



Dujon Sterling

Dujon Sterling is not your average 18-year-old footballer waiting anxiously for his first taste of major silverware. The rising Chelsea and England defender's already been there, done that and won the U19 Euros. Other honours include an unprecedented U18 quadruple (Premier League national, Premier League south, FA Cup and Premier League Cup) during the 17/18 season just ended.


So naturally trophies feature heavily on the talented teen's blue and grey shirt, which is divided into two halves. The Chelsea side is on the right with 'Winning is everything' running up the side in reference to Sterling's latest haul. On the opposite side, the England side, is 'Together, pride, humour' words that define his England journey so far.




Bugzy Malone

No wonder Manchester's dialling code '0161' is a raw, reoccurring refrain in Malone's groundbreaking music. The MC is proud of his Northern roots and that, along with the heartfelt honesty of his lyrics and the way he's hustled to overcome his struggles and give back to his boxing gym, makes his success in the London dominated grime scene all the more impressive. Those four digits also appear on the all black back of his shirt, along with the covers of his first three EPs, an image of each Fire in the booth performance and three lions. The technical body map elements on the shoulders in black perforated vinyl nod to his strong sense of style and brand new Lamborghini.



Caricom Magazine

One issue in and it's already clear that Caricom's laser-sharp focus on sharing and sparking unfiltered conversations relevant to football fans within and around the black diaspora like them is unparalleled. The publication evolved from a series of essays founder and freelance writer Calum Jacobs felt compelled to write, after teaming up with his graphic designer friend Shawn Sawyers, that he didn't want diluted in the mainstream media. No-one else is exploring the space where football and race intersect in such depth or training such a revealing lens on the 'inspirational achievements and gross misrepresentations.'


Though football shouldn't be expected to encourage impactful societal change, few sports can match it for symbolism. From Benjamin Odeje's schoolboy appearance in 1971, to Paul Ince becoming the first black player to captain the side in 1993, right through to Rhian Brewster's Golden Boot winning goal last year at the 2017 FIFA U-17 World Cup, the chronological dates and coordinates found on the reverse of Caricom's shirt have been designed to encourage an exploration of the impact black England players have made on the past, present and future of the national team.






Football Beyond Borders

Tackling poor behaviour, academic performance and inequality, Football Beyond Borders is the inventive education charity 'levelling the playing field'.


Putting a young person's football fandom at the heart of their learning, FBB empowers participants with the skills and attitude to achieve their goals. From FBB Schools- their football themed literacy curriculum delivered to over 300 school students in London and Wales weekly, to youth media platform FBB TV, women's team FBB Warriors and more, all programs are free and powered by donations and volunteers. Now based in Brixton's Angell Town Estate after relocating earlier this month, FBB started out as an annual international project from 2009 until 2013.


The three football pitch images on the FBB shirt illustrate the organisation's different stages- note 'FIELD OF DREAMS' painted on the hoarding. The tree symbolises growth, while the footballs represent the people they bring together from different backgrounds. They've also added the motto 'Together Everyone Achieves More' and a 'Family Over Fear slogan. The number 9 motif reflects the fact number nines are always looking to score and that they started nine years ago.







Baiteze Squad

We came, we saw, we conquered' pretty much sums up Baiteze squad's approach to everything. The group of talented young footballers from East London are known for their swagger and breath-taking skills and some of them also play for semi-professional teams. Disrupting the grassroots football scene with their grind, banter and family mindset, they also document their spirited journey and create original content for their Youtube channel.

It was important to the squad that their shirt is a positive and desirable product that they would wear themselves. so Luis came up with a fun stoneisland nod on the nape of the neck which features the squads name and date of establishment. the overall design illustrates two sides of London: the 'haves' and the perceived 'have nots'. The estate blocks reflect where they have come from alongside multiple empowering messages. To complete the composition, five recognisable figures are arrange diagonally, each symbolising the career routes people take to
make their London life work.